Main properties of polyurethane elastomer
Nov. 16, 2019
PU wheel is also called Pu filling wheel: strictly speaking, Pu is also a kind of plastic, only additives are added in the production process, so the performance is superior, and the production cost is also increased.
Features of Pu filling wheel: it has elasticity and can play a certain damping effect (even better than air filling wheel), good grip, not easy to slip, more wear-resistant and comfortable performance.
PU pulley for skate board has the advantages of wear resistance, oil resistance, corrosion resistance, solvent resistance, radiation resistance, acid and alkali resistance, ozone resistance, oxidation resistance, low temperature resistance, tear resistance, impact resistance, hydrolysis resistance, high elasticity, strong vibration absorption, excellent compression and buffer performance, and low compression deformation. Polyurethane products are widely used in textile printing and dyeing, national defense and military industry, mining machinery, construction machinery, chemical machinery, petrochemical industry, sports equipment, wood processing, printing machinery, metallurgical manufacturing industry, agricultural machinery and other industries.
Polyurethane elastomers are typical multiblock copolymers. The molecular chain is composed of flexible segments with glass transition temperature lower than room temperature and rigid segments with glass transition temperature higher than room temperature. Among them, oligomer polyols form flexible segments, diisocyanates and small molecular chain extenders form rigid segments. The block structure of flexible chain segment and rigid chain segment determines the particularity of its performance:
(1) the hardness range of common rubber is generally in Sauer a20-a90, the hardness range of plastic is about Sauer a95-sauer D100, and the elastic strength of polyurethane is as low as below Sauer A10, as high as Sauer D85, and no filler is needed;
(2) high strength and elasticity can be maintained in a wide range of hardness;
(3) excellent wear resistance, 2-10 times that of natural rubber;
(4) excellent water, grease and chemical resistance;
(5) high impact resistance, fatigue resistance and vibration resistance, suitable for high frequency flexure application;
(6) good low temperature resistance, low temperature brittleness about - 30 ℃ or - 70 ℃;
(7) it has excellent heat preservation performance. Compared with rubber and plastic, it has better heat preservation effect due to its low thermal conductivity;
(8) good biocompatibility and anticoagulant properties;
(9) excellent electrical insulation, mildew resistance and UV stability.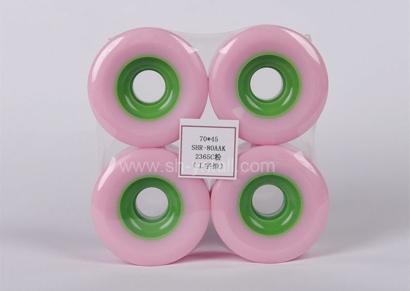 PU Wheels For Skate Board
Polyurethane elastomer is not perfect, its main disadvantages are:
(1) large internal heat generation and general high temperature resistance. The normal operating temperature range is - 40-120 ℃. If long-term action is needed under the condition of high frequency oscillation or high temperature, corresponding modification measures must be taken in the structural design or formula.
(2) it is not resistant to strong polar solvent and strong acid and alkali medium. At a certain temperature, alcohol, acid, ketone will make polyurethane elastomer swelling and degradation, chloroform, dichloromethane, dimethylformamide, trichloroethylene and other solvents will make polyurethane elastomer swelling at room temperature.